Tokyo's light
illuminates the future.
"Light"
Culture and art, technology and intelligence, space and community, and peopl create the "value of the future."
From Tokyo, a city of tradition and innovation, it will create a variety of new values light up the world.
TOKYO LIGHTS is a space where you can experience the "future" through an international competition to determine the world's best projection mapping through entertainment performances using advanced technology, and vivid light art.
We invite you to experience a moment of light full of meaningful messages at TOKYO LIGHTS, for the second year."
AMBASSADOR
Official Ambassador

---

Born in 1985. His father is Matsusuke Onoe VI. In May 1990, he made his stage debut as Matsuya Onoe II in the role of Tsuruchiyo in "Meiboku Sendai Hagi."

He also performed the roles of Soga Goro in "Renjishi" and "Kotobuki Soga no Taimen," Fujinokata in "Kumagai Jinya," and "Kanadehon Chushingura" in the role of Kaoyo Gozen, among others.
In recent years, he has attracted attention as a leading actor and was entrusted with major roles such as Narukami Shonin in "Narukami" and Benten Kozo Kikunosuke in "Benten Musume Meo no Shiranami."

COMMENT

I am honored to serve as an ambassador for this wonderful event, which sends a message to the future as a new tradition in Tokyo. I am certain that you will be amazed by the projection mapping, light art, and other light experiences that await you. Please come visit and see for yourself!
PROGRAM
International Competition Area
The 19 finalists for the 10th year of the "1 Minute Projection Mapping Competition," one of the world's largest international projection mapping competitions, have been selected.
This year we received 241 entries from 55 countries and regions (the most ever). Of these, 19 finalist works will be projected in the Seitoku Memorial Picture Gallery in Meiji Jingu Gaien. The Grand Prix and other prizes will be awarded by a panel of judges comprised of experts from Japan and abroad.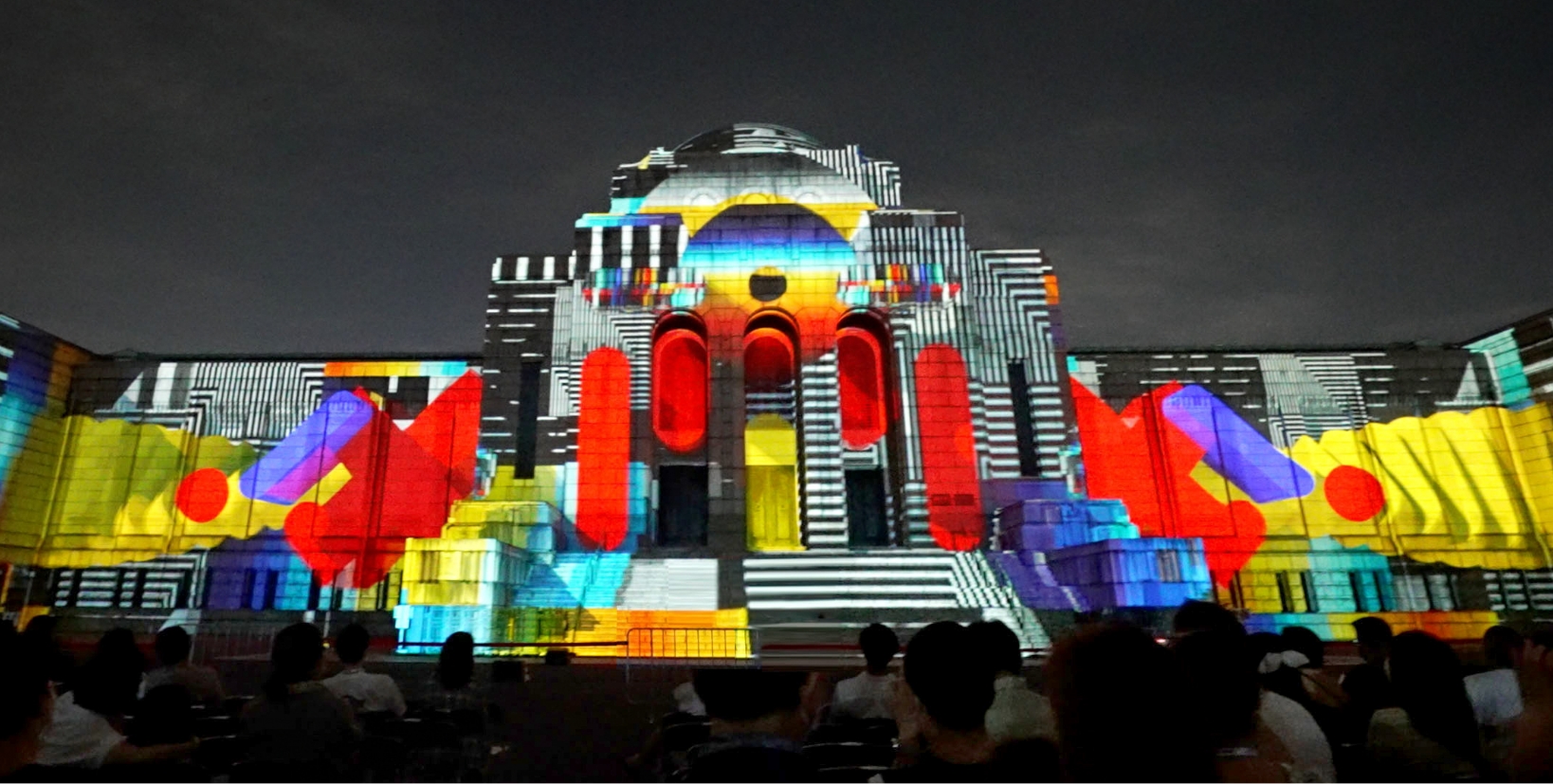 The "Festival of Light," a fusion of light, art, and music, will be held at the Meiji Jingu Gaien General Baseball Stadium Softball Stadium, where light art and advanced entertainment will be arranged to take visitors on a journey through an extraordinary world of light. Hiroyoshi Uruma is the overall director of the festival, and other leading Japanese creators have also gathered.
Under the concept of "Circle of Life," a light journey through the three worlds of land, sea, and air will be staged. Bold use of the venue will create an immersive entertainment space that combines digital sound art using light and music with real performances. Newly added this year is an eating and drinking area where visitors can enjoy food and drinks while watching the public viewing of the International Projection Mapping Competition.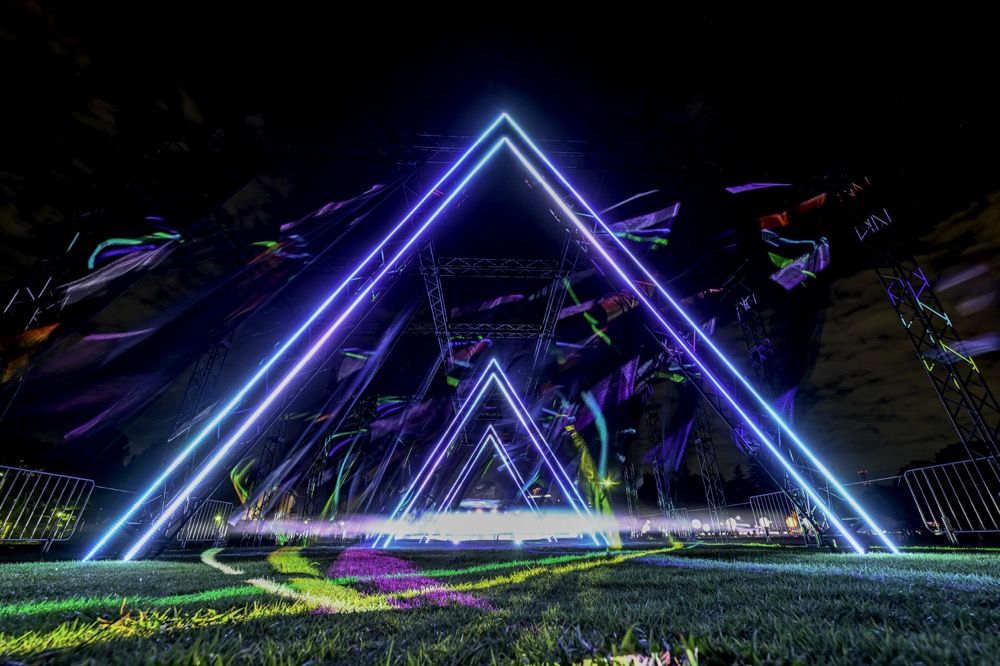 ACCESS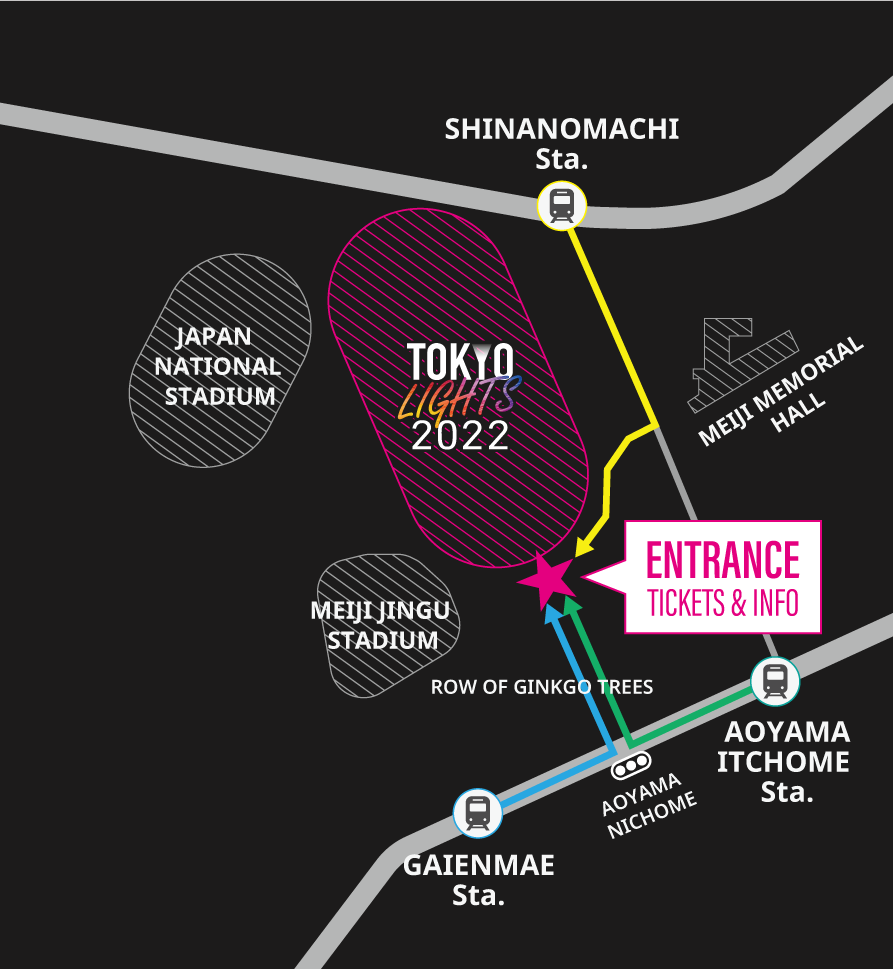 Meijijingu Gaien Seitoku Memorial Picture Gallery and Meijijingu Gaien Rubber-ball Baseball Ground(1-1 Kasumigaokamachi, Shinjuku City, Tokyo)

※We recommend that you come from Aoyama Aoyama-itchome or Gaienmae. Please use public transportation as there are no parking spaces available.
FAQ
Please reserve your desired tickets through Live pocket.

No. Please note that there will be flashing lights, so parents/guardians should exercise caution when allowing children to watch. If you have reserved a seated ticket, you do not need to reserve a separate ticket for children under 3 years of age to view the show.

Are same-day tickets available?

Applications will be accepted at the registration desk on the day of the event only for sessions that do not reach the number of pre-registrations, Information regarding on-site registration will be posted on this website.

What is the difference between the first and second section?

The contents you can enjoy will remain the same.
Due to the number of seats available in the convention area, the same content will be divided into two parts.

How many tickets can I reserve with one application

What should I do if I can't make it to the event on short notice after making a reservation?

There is no need to cancel the tickets, but we would greatly appreciate any gifting of tickets to those who were unable to purchase the tickets.

Will the event be held even if it rains?

The event will be held even if it rains. In case of stormy weather, the event will be cancelled.
Please check the official website and social media before coming to the event. If you are unable to come to the event due to weather or other reasons, you will not be able to come on a different day. Please understand this in advance.

Can I use an umbrella in case of rain?

For your safety, please refrain from using umbrellas while viewing the Projection Mapping International Conventition and Festival of Light. Please bring rain gear such as a kappa.
Please note that rain gear will not be sold at the venue.

Is it OK to reserve a spot?

We do not permit Blue sheets, chairs, etc. cannot be brought in or used.

How can I get to the venue?

For details, please check the access map.
7 minutes walk from Aoyama-itchome Station
7 minutes walk from Gaienmae Station
15 minutes walk from Shinanomachi Station
We recommend that you come from Aoyama-itchome or Gaienmae.
No parking space is available, so please use public transportation.

Is it possible to come by car?

We do not allow visitors to drive their own cars.
Please use public transportation as there are no parking spaces available.

Is it OK to take pictures?

ou are welcome to take as many photos and videos as you like.
However, please be very careful not to distract people around you and please do not use flash.
We are not responsible for any accidents or problems between guests.
Please refrain from bringing tripods.

Is the venue wheelchair accessible?

It is possible.
If you have or have applied for a ticket for the "International Conventition Viewing Area," please contact us using the inquiry form.

About measures to prevent infection by the new coronavirus

We ask that you wear a mask, sanitize your hands, take your temperature, and register with COCOA.
For more information, please see our efforts in the prevention of new Coronavirus infection.

Admission restrictions during busy times

There is a possibility that admission may be partially restricted depending on how crowded the venue is.
Please understand this beforehand.

Are smoking booths available?

Please note that smoking is prohibited on the venue premises.

What is the difference between A and B tickets?

A ticket is for admission to both the Festival of Light area and the International Festival area (part 1 or 2).
B ticket allows you to enjoy the Festival of Light area.

I have a ticket for the second part of the event on Nov 11 or Nov 12, can I enter the venue only at 20:00?

The Festival of Light area will be open from 17:00. The International Convention viewing area will open at approximately 19:30.
---
Efforts to prevent the spread of coronavirus infection.
The new Coronavirus outbreak prevention guidelines will be observed and implemented at the event. Therefore, only those who agree to the following conditions will be allowed to enter the venue. Those who do not agree with the guidelines will not be allowed to enter the venue.
*Please wear a mask (preferably non-woven cloth of reliable quality) at all times while inside the venue.
*Please disinfect your hands before entering the venue.
*Please take your temperature at the entrance. If you have a fever (37.5℃ or higher), you will not be allowed to enter the venue.
*Please refrain from talking loudly and cheering during the event.
*Please cooperate in registering with "TOKYO VACTION".
In addition, on the days of the event, we will strictly refuse admission to the following people
*Those who have symptoms such as fever (37.5°C or higher), sore throat, headache, joint pain, breathlessness, difficulty breathing, cough, diarrhea, conjunctivitis, or taste disorder that makes the taste of food seem bland at the time of taking temperature at home.
*Those who live with a family member or close acquaintance who is suspected to be infected.
*Those who have traveled to a country or region where the government has imposed entry restrictions or required a post-entry observation period within the past two weeks, and those who have been in close contact with people living in such a country or region.
*Please read the precautions carefully before coming to the event.
Electricity used on the day of the event is generated in-house so as not to impact the power supply or add additional load. We also use biofuels for some of the fuels, thereby promoting low-carbon initiatives.
We also utilize electricity from fuel cell vehicles (FCVs) and electric vehicles (EVs) to promote understanding and widespread use of reducing, creating, and storing electricity.
---