NEWS
One of the World's Largest International Projection Mapping Competition Closes with a Successful Grand Prize to Vali Chincișan of Romania
2023.09.17
~ The Grand Prize was awarded to Vali Chincișan from Romania, and the event ended with a great success. ~
The award ceremony for the "1minute Projection Mapping Competition," one of the world's largest international projection mapping competitions (hereinafter referred to as the "International Competition"), the main content of this year's third annual light festival "TOKYO LIGHTS 2023," was held on September 10, 2023 (Sunday), at the Meiji Memorial Picture Gallery in Meiji Jingu Gaien.
The winner of the Grand Prize was Vali Chincișan from Romania, who presented a work entitled "Legacy Links" in response to this year's theme "LINK," expressing the history woven by ancient civilizations and the connections between the present and the past through AI-based animation.
Unfortunately, the winner of Grand Prize was not able to visit Japan, but Tokyo Governor Yuriko Koike attended the ceremony and handed the prize plate to the jury member László Zsolt Bordos, who was representing the winners. The "TOKYO LIGHTS 2023 Sep. RED" exhibition came to a successful conclusion with a finale at the end of the awards ceremony.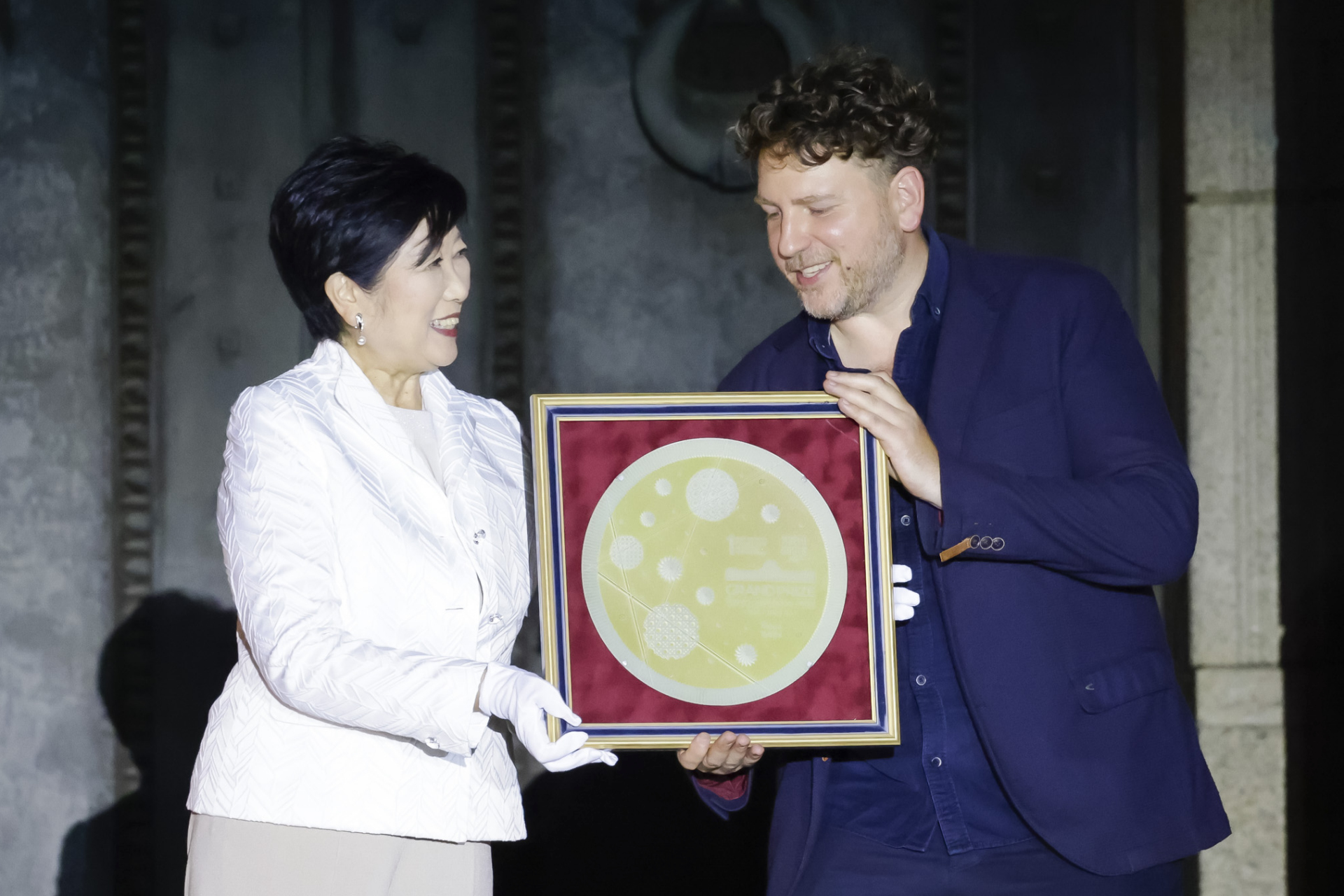 ■Tokyo Governor Yuriko Koike Comments
Vali Chincișan, congratulations very much. There were so many high level works.
I am sure that there are many creators who will go on to become global leaders from here.
The theme of this year's festival is "LINK," which means "connection," and the word "LINK" expresses the idea of working hand in hand to realize a sustainable future. Please continue to enjoy this wonderful technology and art with us all.
Congratulations!
---
■Results of 1minute Projection Mapping Competition
< Grand Prize (Tokyo Governor Prize) >
Title: Legacy Links
Team: Vali Chincișa (Romania)

Concept of the work:

This work is a videomapping animation that vividly depicts the interwoven histories of ancient civilizations such as Sumer, Egypt, and Greece.
Through its dynamic visuals, it highlights their mutual evolution and collective impact on modern society. The animation bridges the past and the present, It suggests that no civilization developed in isolation. Rather, each contributed to and influenced the other.
Legacy Links reflects the cooperative spirit of our ancestors and calls us to address today's global challenges with an awareness of our common history and interconnectedness.
---
< Second Prize (TOKYO LIGHTS Prize) >
 Title:Touch
 Team:Elektrick.me (Bulgaria)
< Jurys' Special Prize >
 Title:Human
 Team:Ari Dykier (Poland)
< Tokyo Tokyo Prize >
 Title:Umbra
 Team:Resorb (Germany)
< Audience Prize >
 Title : A Neon Owl Symphony
 Team:Clockwork (Poland)