Festival of Light Area
"Lighting choreographer," Minoru Fujimoto from MPLUSPLUS, who has staged the LED effects for the opening ceremony of international events, Shuhei Matsuyama from THINK AND SENSE, and other top creators from dod, PRISM, and SC Alliance have joined hands to create this Festival of Light.
The theme music for the area has been composed by Ray Kunimoto, with the entire area produced by Masasuke Hayakawa from IMAGICA EEX to create a completely new, never-before-seen experience.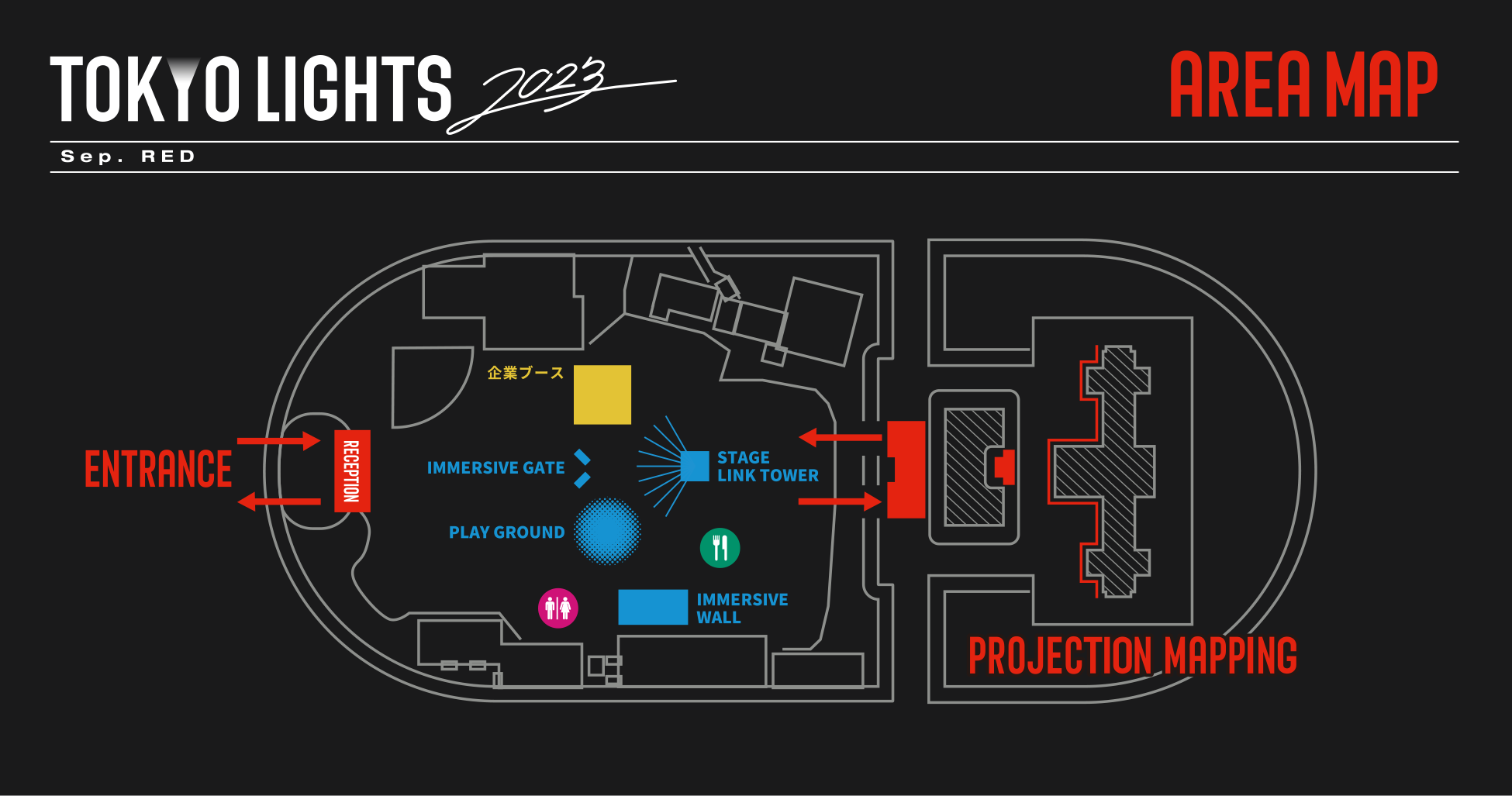 Theme for September
This year's Festival of Light will be held in September and November using Japan's traditional fall colors of crimson and indigo blue. September's theme is "TOKYO RED," underlying the month's crimson color. This color scheme, which brings to mind festivals and autumn leaves, will add a colorful touch to the stage with staging suggestive of the U.S. Academy Awards.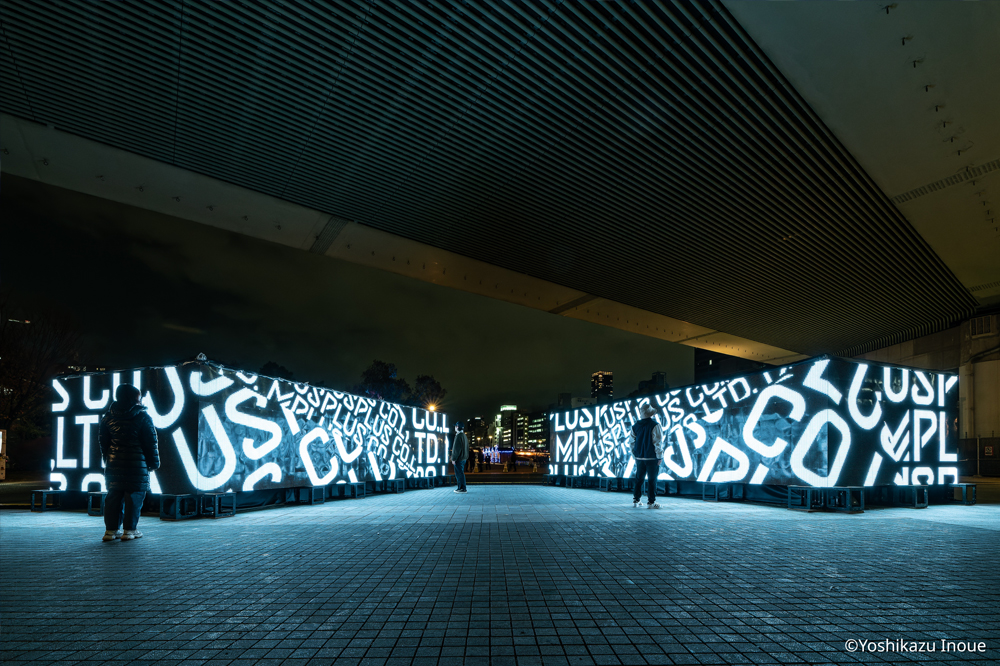 ©MPLUSPLUS
IMMERSIVE GATE

Artist: MPLUSPLUS

Visitors will be welcomed to the festival by two massive, radiant gates standing two meters high and eight meters deep. This, together with motion graphics at TOKYO LIGHTS and 3DCG images produced under different themes for September and November, will create an immersive, otherworldly experience. The Festival of Light begins the moment you step through the gates.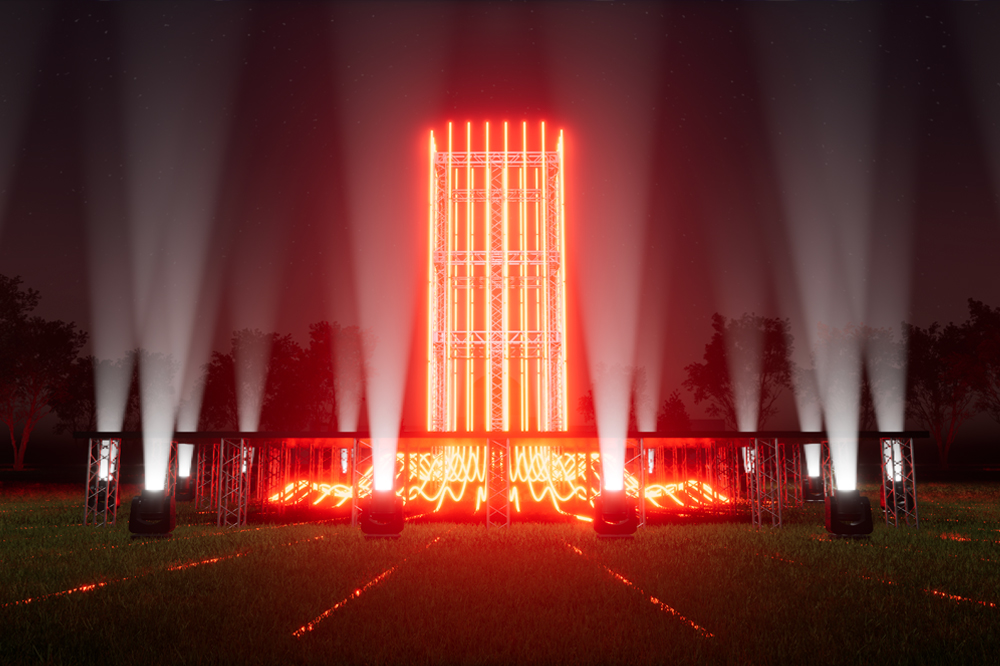 イメージCG
©MPLUSPLUS
LINK TOWER

Artist: MPLUSPLUS

This installation, created by Minoru Fujimoto from MPLUSPLUS, is rooted in the theme of "light connecting a divided world." An expression of Tokyo's skyscrapers and sweeping subway lines, this tower of light stands tall as a symbol of the Festival of Light area. Extending out from the stage, light awakens hope and the imagination of the audience.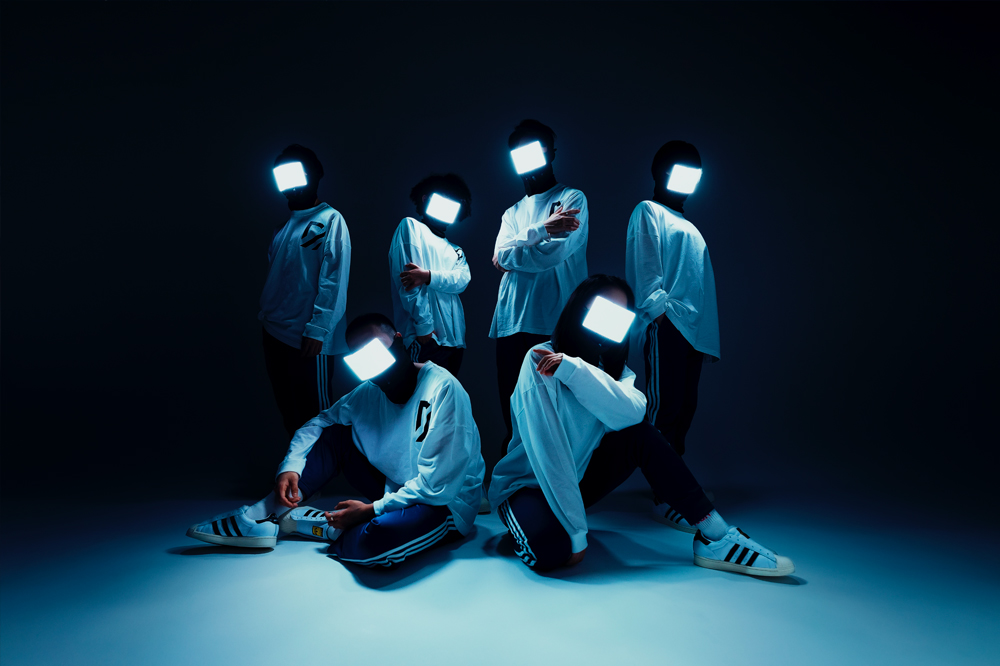 ©MPLUSPLUS
PERFORMANCE

Artist: M++DANCERS, Choreographer: SHIRASU

Ten performers will use MPLUSPLUS's original LED ribbons, masks, umbrellas, flags and other illuminated items in a dance performance on the stage of LINK TOWER. This dance performance is a masterpiece, evolving with the times and experiencing a further awakening with modern technology.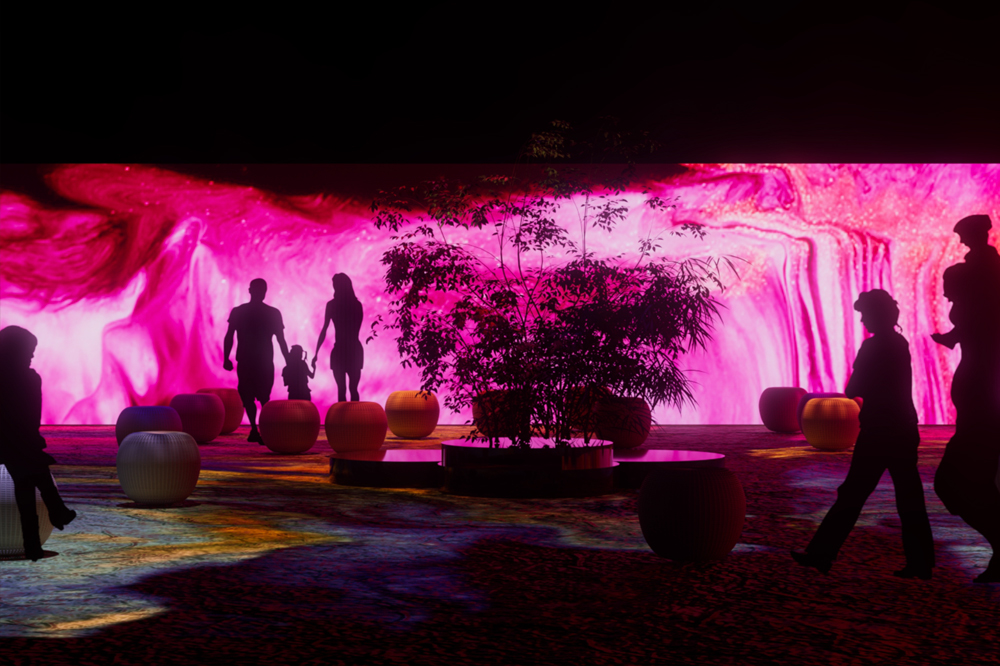 IMMERSIVE WALL

Artist: THINK AND SENSE / Ikenobo

With a giant wall standing 15-meters wide on two sides and four meters high, this immersive space produced by Shuhei Matsuyama from THINK AND SENSE uses AI-based technology to generate 3D images with point cloud data, creating an expression of tradition and nature. In September, the entire space will be used to create an experience for visitors through a link with ikebana pieces by the head of Ikenobo around the theme of the Chrysanthemum Festival.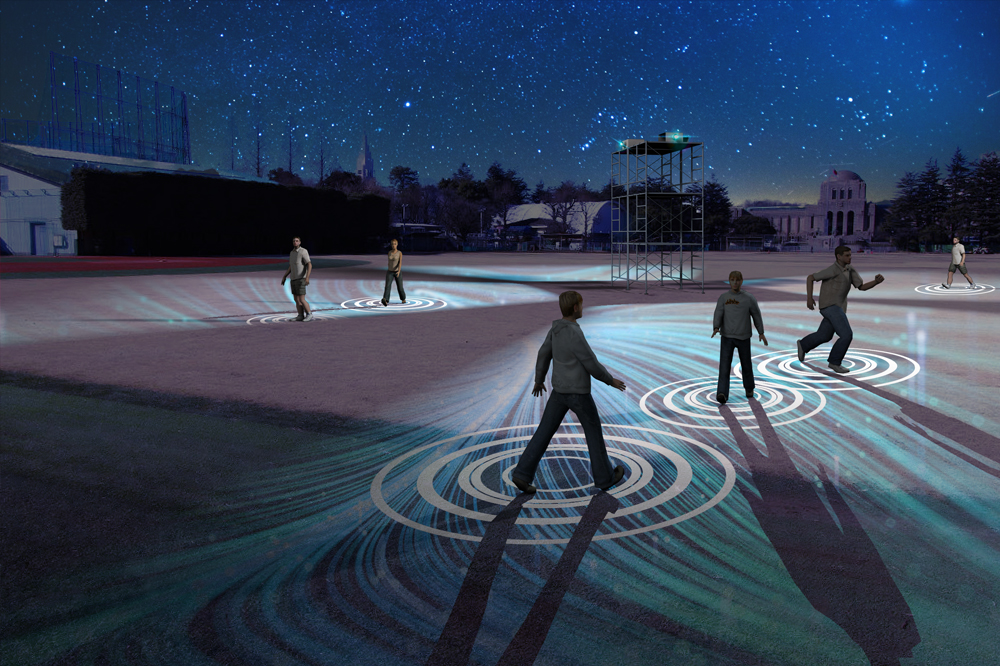 PLAY GROUND

Artist: dod / PRISM

This space uses a combination of laser sensors and projection mapping to generate a diverse range of interactions. Patterns are created in the footsteps of people's movements, and colors of images change, creating an enjoyable experience. The smooth, green barrier-free space serves as a nighttime playground for people of all ages.
SPECIAL FOOD

A limited menu is available in the dining space in this area, created together with RED U-35 (RYORININ's EMERGING DREAM U-35). Visitors can enjoy food creations developed on the concept of "light" in cooperation with chefs Kazutoyo Inoue and Masato Tamamizu, who are both affiliated with CLUB RED.
MENU
Spicy Hot Chicken Nanban Bento (¥1,500)
Refreshing Lychee Pudding (¥500)
Produced by Chef Kazutoyo Inoue
Chef Inoue arranges the traditional Japanese dish of "nanban" for the Tokyo palate. He plans to use Tokyo GAP vegetables and shine a spotlight on glossy and shiny ingredients, such as paprika and sauces, and cooking techniques to express the concept of "light."
TOKYO GYUDON SANDWICH (¥1,000)
Chilled Tokyo Vegetable Ratatouille with Red Plum Vinegar (¥500)
Produced by Chef Masato Tamamizu
Taking inspiration from "gyudon (beef bowls)," Chef Tamamizu produces a French-style sandwich using Tokyo beef. And he also creates a chilled ratatouille dish with a Japanese twist on this specialty from the south of France using red plums that evoke the image of the rising sun of Japan.
Chef profile
2016 RED EGG (Grand Prize)
Szechwan Restaurant CHEN (Tokyo)

Born on August 13, 1981 in Akita Prefecture, Inoue is the head chef at Chinese style Szechwan Restaurant CHEN (Tokyo). He joined Szechwan Restaurant in 2011 and was assigned to Szechwan Restaurant CHEN (Tokyo), where he has worked to support the restaurant since it opened its doors. Inoue has entered challenges in different competitions, winning a number of awards, including the gold prize in the hot vegetables and seafood category at the All Japan Chinese Cuisine Competition for Young Chefs in 2004.

2021 BRONZE EGG
Wine Restaurant Le Conte (Tokyo)

Tamamizu was born on June 1, 1986 in Mie Prefecture. After graduating from the culinary arts department at Ohka High School, known as the "high school restaurant," he trained at Le Bamboche in Ise City and worked as a chef de partie at two-star Le pré in France. After time at recte in Daikanyama and sanmi in Toranomon, Tamamizu took on the position of chef at Le Conte. A certified cosme concierge and aesthetic nutrition advisor, he is an advocate for healthy cooking.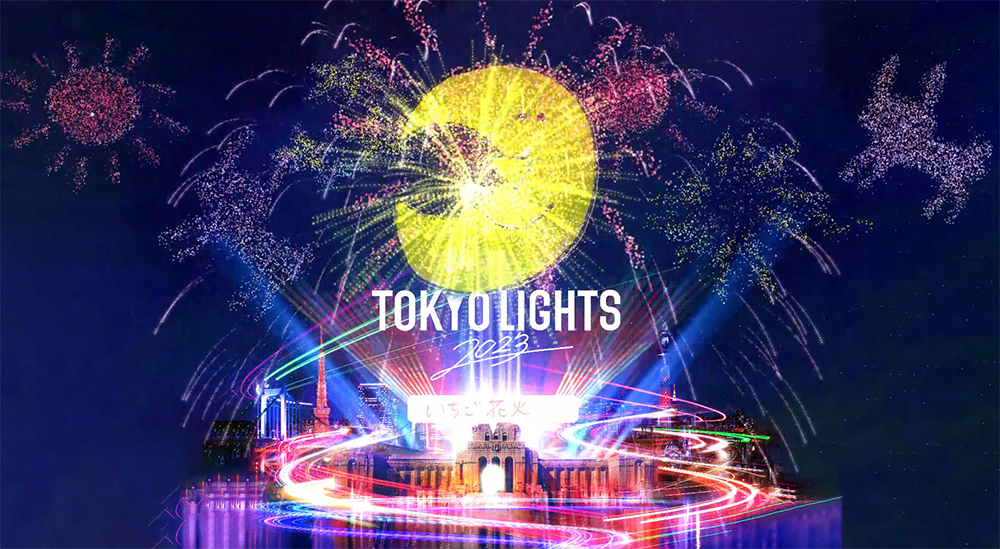 TOKYO Dream Fireworks

Ricoh has developed a "paper app" communication tool that enhances the fun of drawing and allows users to experience the surprise and excitement of seeing their drawings come to life. TOKYO Dream Fireworks, this year's booth, is planned and managed by NPO Origami, a volunteer group of students. Pictures drawn on the themes of the future and dreams become colorful fireworks lighting up Tokyo's night sky and provide a memorable experience for visitors.