Festival of Light Area
The "Festival of Light," a fusion of light, art, and music, will be held at the Meiji Jingu Gaien General Baseball Stadium Softball Stadium, where light art and advanced entertainment will be arranged to take visitors on a journey through an extraordinary world of light. Hiroyoshi Uruma is the overall director of the festival, and other leading Japanese creators have also gathered.
Under the concept of "Circle of Life," a light journey through the three worlds of land, sea, and air will be staged. Bold use of the venue will create an immersive entertainment space that combines digital sound art using light and music with real performances. Newly added this year is an eating and drinking area where visitors can enjoy food and drinks while watching the public viewing of the International Projection Mapping Competition.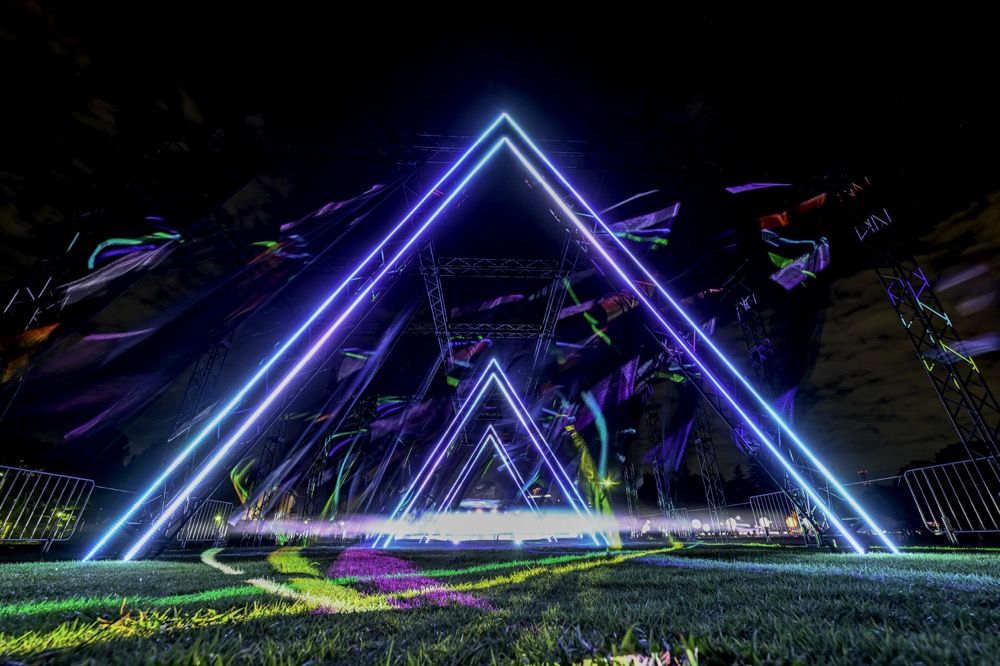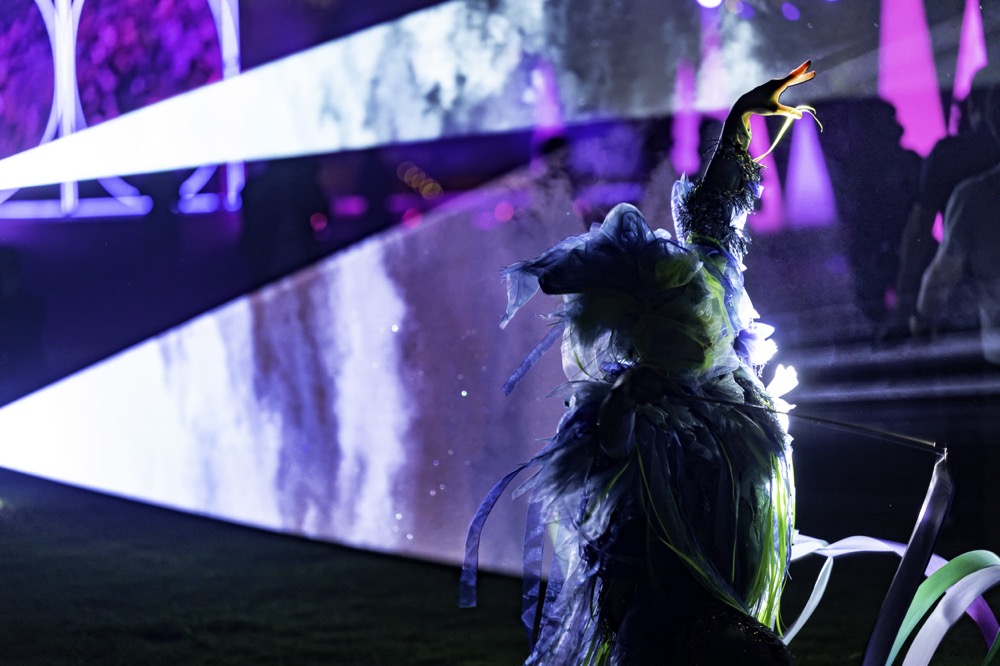 PROGRAM
Introduction PORTAL of LIGH

A journey of light begins as you pass through a portal of light that leads you from the everyday world to an extraordinary one. Surrounded by neon colors as it links to digital sound art, the flickering and twinkling lights evoke the sensation of gradually melting into the world of light, beyond which the TOKYO LIGHTS logo objet d'art will appear.

---

Chapter 1 The Sea - AWAKEN THE SENSES -

A sea of light appears, combining Japan's cutting-edge fiber beam technology (special laser) and visual effects. Projected images of sea creatures will create the sensation of swimming in the deep sea, and visitors can experience immersive entertainment with light and sound.

---

Chapter 2 The Forest - FEEL THE VOICES -

Nature, where the past, present, and future coexist. Listening to this forest of light, one can feel the voices of the diverse life forms that watch over and coexist with our lives. Performers from Japan and abroad will express the beauty of life through graceful and brilliant performances, creating a mystical space.

---

Chapter 3 The Sky - CONNECT WITH THE WORLD -

The last stop on the journey of light is a sky of infinite light. In a space designed with light objects and fiber beams, visitors can enjoy food and drinks while watching the public viewing of the International Projection Mapping Competition.

---
---
Staging of TOKYO LIGHTS 2022

---

CREATIVE & ARTISTIC DIRECTOR

Hiroyoshi Uruma is the General Director of 「 STAR ISLAND 」, an entertainment show that fuses Japanese traditional fireworks with advance technology. Hiroyoshi has performed across all over the world, with the well-recognized performances in Singapore and Saudi Arabia. For the 2019 Paralympic Games in Singapore, Hiroyohi created fireworks display consisting of 500 drones, which thrilled the 500,000 attendees with its astonishing display.

Hiroyoshi specializes in immersive and dynamic multimedia entertainment shows that combine live performance and technology. Hiroyoshi is also active in a wide range of artist live performances, original shows, and promotional events.

In 2015, 「Precious SKY FASHION SHOW feat. GUCCI」 received「1st JACE Event Award for Advertising Impact」.
In 2017, 「Futuristic Fireworks Entertainment STAR ISLAND」 won 「Cool Japan Matching Forum 2017 Judges' Special Prize」 by the Cabinet Office.
In 2020, 「CONTACT」, a spectacular show in the night sky using 500 drones, received「6th JACE Event Award, Grand Prize, Minister of Economy, Trade and Industry Award」.
In 2021, Hiroyoshi joined the production team for the closing ceremony of the Tokyo 2020 Paralympic Games as a Creative Director.


Staging of TOKYO LIGHTS 2022

---

DIRECTOR OF LIGHTING DESIGN

[Laser Artist] YAMACHANG / REALROCKDESIGN

Yamachang started his career as a laser lighting designer in 2000.
Yamachang's activities range from corporate installations and entertainment shows to illuminations, live stages, and dance music festivals, where he designs spaces based on light.
With the methods of "color = melody" and "brightness = rhythm" as the axis, the improvisational operation cultivated through many years of activities gives the audience a cutting-edge impression.
Yamachang seamlessly links and expands the use of analog and digital equipment, and develops audiovisual systems and drone lasers to create a wide range of unconventional expressions.
Belongs to the creator group『REALROCKDESIGN』.


Staging of TOKYO LIGHTS 2022

---

DIRECTOR OF FIBER BEAM DESIGN

[FIBER BEAM DESIGNER] Daiki Kodama / KAST Co., LTD

A Japanese engineer fascinated by the beauty of LASER light, belongs to KAST Co.
From the research and development of MADE IN JAPAN LASER equipment, Daiki has been involved in a wide range of LASER productions for concerts, stages, plays, and events.
In recent years, he has succeeded in researching and developing 『Fiber Beam』, a light that is both sharp and extremely safe even if it enters the human eye.Taking advantage of the safety of Fiber Beam, adding movement and rotation of the light source through the robot arm, Daiki proposed 『Beam Twister』to revolutionize the production of light.


Staging of TOKYO LIGHTS 2022

---

[Composer] Fz / sfpr / Radical Hardcore Clique

Active in two bands, "sfpr" and "Radical Hardcore Clique," which develop borderless sounds that move inextricably between electro and rock, and has also worked as a music producer for many top artists in Japan and abroad. Fz has also worked as a music producer for many top artists in Japan and abroad. In particular, Fz's unique worldview combining Gagaku and Western music has been highly acclaimed both in Japan and abroad, and in 2018 he began producing music for stages and events that incorporate soundscapes such as "Panasonic Immersive Entertainment Booth at CES 2018" "STAR ISLAND" "Agency for Cultural Affairs Strategic Art and Culture. Fz has also served as music director for "Japan Live Yellow Project," "Songs of Hammering Fire," and other projects. Fz is also one of the composers for the closing ceremony of the Tokyo 2020 Paralympic Games.


Staging of TOKYO LIGHTS 2022

---

[Art Designer] Naoya Murayama

Naoya Murayama started his career as an art designer in 2006.Since then he has been active as an art designer mainly for TV programs such as variety, music, information, and sports. Naoya's activities are not limited to television, but also include art direction for live performances, events, and stages. He has created a number of spaces based on the theme of "design with a story. Naoya has worked with a number of directors to create new content by creating spaces that defy conventional concepts. Naoya is affiliated with Fuji Television Network, Inc.
Noaya was in charge of the set design for the closing ceremony of the Tokyo 2020 Paralympic Games.


Staging of TOKYO LIGHTS 2022

---

COSTUME DIRECTOR (REFLECTION)

[Costume Designer] Hirosumi Saito / Woora Front

Born in 1981. While playing an active part as a performer in club culture in Tokyo, Hirosumi Saito started making costumes by applying his sensibilities of ikebana that he started in his childhood.
Hirosumi has worked on numerous costume designs and stylings based on the concept of "deformed extraordinary" for commercials, famous artists, movies, theme parks, and the closing ceremony of the Tokyo 2020 Paralympic Games.


Staging of TOKYO LIGHTS 2022

---

Video production, laser design

"I trap what I feel for a moment in the interface and drop something invisible into it as a graphic."
The project started in 1996. Since then, they have been active in various media such as advertising, video, web, VJ, music, apparel, and space design, regardless of genre.
Since then, they have been a cutting-edge visual art and design team working in a variety of media including advertising, video, web, VJ, music, apparel, spatial design, and more.
Translated with www.DeepL.com/Translator (free version)